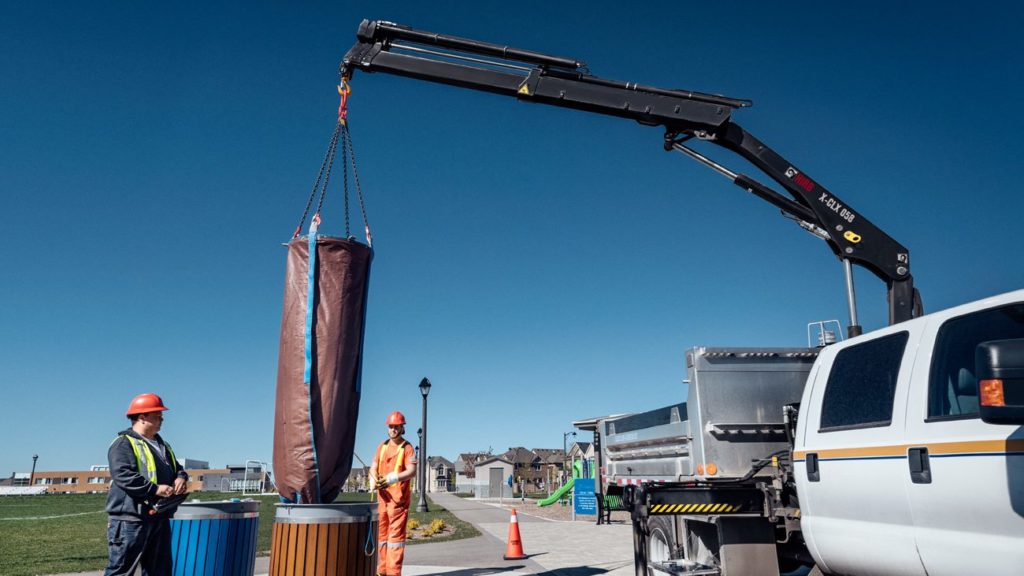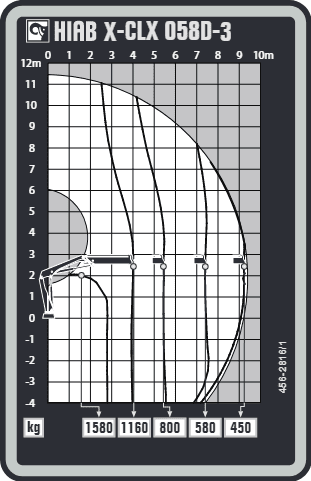 | | |
| --- | --- |
| Horizontal Reach | Capacity in Pounds |
| 9'6" – | 3570 |
| 13'1" – | 2600 |
| 18'1" – | 1810 |
| 23'11" – | 1280 |
| 30'6" – | 990 |
D-Boom with 3 hydraulic extensions with single torque link providing extended reach, and exceptional close-in lifting.
Externally mounted, interconnected, boom extension cylinders eliminate travelling hoses – accessible and uncluttered.
Externally adjustable self-lubricating boom slider pads.
5-ton swivel hook with flexible mounting positions.
410-degree rotation.
Low maintenance rack and pinion slewing system with flange-mounted cylinders handles full load up a 5degree slope.
Three-point mounting reduces stress on crane and truck.
Chromed hardened steel pins and Teflon coated bushings.
Double-acting hydraulic outriggers legs with automatic holding valves, spring-loaded locks and secondary safety catches; extend manually on low effort roller bearings.
HIAB's exclusive six function control valve
Sealed main relief valve prevents overloading of all functions Port relief valve in each function prevents dynamic overload
Custom holding valves for inner and outer booms regulate oil flow and prevents the operator from lowering load too quickly
Pressure compensated double load holding valves for inner boom, outer boom, slewing and extension cylinders provide zero sink rate and hose breakage protection
HIAB's Next Generation High Pressure 24 Degree Soft Seal Hydraulic Fittings.
Clean, comprehensive oil system – frame-mounted tank equipped with anti-surge baffles, magnetic particle trap, condensation trap, 10-micron return line filter, breather filter, sight gauge and filler inlet screen
HIAB Cranes are engineered and certified to European EN 12999 / 13001 strength and performance standards.
HIAB Factories are certified to international ISO 9001 quality manufacturing standards.
Full 12 months parts and labour warranty.